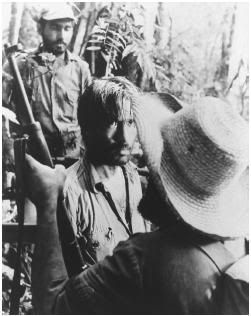 just finished watching the first hour of Latin Music USA online...This one seems to really focus on the sounds coming out of Cuba and these Afro-Cuban rhythms that really influenced an entire generation of musicians--from jazz cats to latin rockers such as Santana on the west coast. it never occurred to me that groups such as the Beatles, the Stones and the Kingsmen were incorporating 'latin' sounds into their music...
anyhow, while watching this i thought of this movie---
Soy Cuba, made in the 60s by Russian film makers, is really an incredible piece of film making...some of the shots are quite unique, lasting for much longer than normal and moving through a variety of scenery (the pool scene in the beginning and the end shot that falls off the building are both remarkable)...
the movie follows the lives of several Cubanos--a young prostitute, a fruit vendor, a peasant, and a disenchanted college student--revealing how each is some sense exploited, seeking political/economic liberation through various avenues...a top-to-bottom perspective that is left-leaning, yet free of the preachiness so characteristic of such an approach...a fantastic film that comes highly recommended!!