A blog? OMG, thats so 2004!
In the course of putting this whole blog thing together, a number of questions jump to mind. Why? What for? How come? and the like....Well, its all about the music...so, with that said, I will not be posting entire albums for downloading...theres plenty other blogs that do that already...although I will post a song off an album, and if you like that song, I encourage you to go out and support the artists and musicians who make that music.

So, who am I and what qualifications do I bring to the table?
good question. heres quick rundown...my first memories of music go back to my days as a child, waking up on Saturday mornings to the sounds of War, Sly and the family Stone, The Beatles, The Stones, Janis Joplin, Earth Wind and Fire, Santana, Malo, etc. My parents grew up in LA during the 60s, and their tastes in music reflected this fact. Where my dad loved rock, soul, blues, and funk, my mom preferred the Motown sound--The Supremes, Temptations, Marvin Gaye. Actually, my mom--prior to meeting my dad--dated a kid who used to work at a record shop off Whittier Blvd in East LA. She amassed a nice collection of 45s too, that now rest comfortably in my hands!! (I'll post on this in the future).
In the 80s, we left Cali and moved to El Paso, where my parents both found work at radio stations. I recall hanging out in the control room while the radio dj picked out records to play. Also, by working for radio stations, my parents used to get free tickets to the shows coming through town. I remember seeing Twisted Sister in 1983, Prince during the Purple Rain tour, ZZ Top the Eliminator Tour, Men at Work, Tina Turner, Phil Collins, and so many more. In 1988, we left El Paso, and came to Austin. My life as a DJ began in 2000. That year I inherited my grandfather's records. This cumbia record was one of his.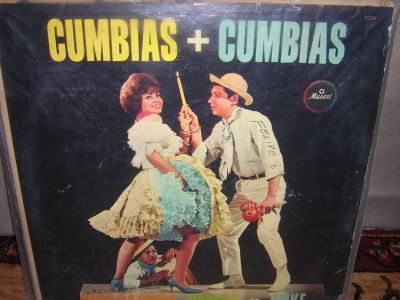 Cumbia Colombiana
Its a great record. I ended up using a sample from a different track off that same record for my 'Cumbia International' released this past summer.
Cumbia International--DJ Avatar
ok, so you get an idea of what to expect. I dont want to focus solely on one genre, when my interests are so much greater. I can easily write on some obscure hiphop 12" one day, then some Arabic artists the next, and Reggae, Bollywood, Afro-beat, Salsa, 80s, etc...dig the music.