~one of my favorite blogs,
Musica del Alma
, has posted his top 5 latin funk tracks of all time...a herculean task no doubt. Some great tunes posted in there!! Check his site, as he is always posting some really great and obscure tunes.
So, of course, I started to think of my own top Latin Funk tunes. Its a rather difficult exercise, yet I think Ive managed to come up with at least a top 3. So here they are.
~this tune is just plain incredible in so many ways...the drums, the chanting, the ill breakdown, etc...b-boy fodder for the dancefloor indeed!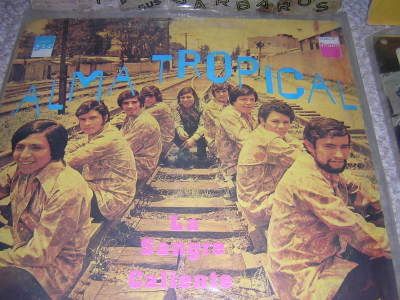 ~this one here first popped up on my '
Y Chile Verde
' mix back in 2006. Its off an LP by Alma Tropical entitled "La Sangre Caliente'...Ive seen a couple of tracks of theirs comped before, so this isnt any great new discovery...anyhow, its a Latin Funk banger of the highest order...check it!
AlmaTropical-QuetePareceCholito.mp3
~okay, I'll admit it, I'm showing my Texas bias...hey, this record was practically cut in my backyard...whatever, its a great tune that slays the party every time...and these guys just performed last week at SXSW, so check em out if possible.